Eric Mitchell
KANGATECH MANAGER/TECHNICIAN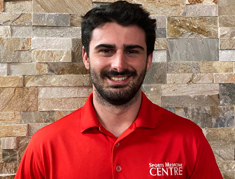 Eric is studying Fitness and Health Promotion at Algonquin College, here in Ottawa.
He has competed in a high level of hockey, soccer, track and field, and is now pursing the sport of bobsleigh. He is hoping to compete in the 2026 Winter Olympics for Team Canada. Helping people has become a big part of Eric's day-to-day life.
With that being said, he provides patients the ability to test their strength and to understand what they need to improve on, and that is through the KangaTech machine. Eric started off as a patient on the machine and realized the importance of what the machine has to offer and how useful it is when it comes to improving strength and performance.
The KangaTech machine is not just beneficial for top level athletes, it can be used coming off of an injury, preventing injuries, and also getting to the root of discomfort/pain. The machine can test your strength from head to toe finding imbalances and weaknesses throughout your entire body.