Dr. Dan Walker
Chiropractor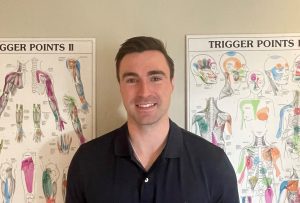 B. HSc. (Hon.) Kin., D.C.
Dr. Walker began his training in rehabilitation therapies at Ontario Tech University where he obtained his B.HSc. (Hon.) in Kinesiology. His studies included research into musculoskeletal injuries and an internship working with professional athletes.
His chiropractic studies took him to New York State where he earned his D.C. at New York Chiropractic College (N.Y.C.C.).  During his doctoral studies he obtained advanced certificates in both Sports Science and Human Performance, and Nutrition, and is skilled in ConnecTX Therapy techniques.  He has a certificate from McMaster University in Contemporary Medical Acupuncture and has worked with varsity athletes while in New York, as well as provided ergonomic assessments and advice in an industrial setting for employees.
Having grown up in Ottawa and played competitive hockey, Dr. Walker loves his hometown and is excited to be returning to start his practice.  He looks forward to welcoming new patients!