Sarah Peters
Athletic Therapist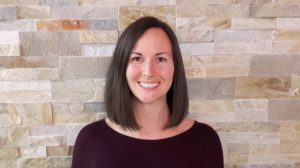 BKin(ch), Adv. Cert AT, CSCS, CAT(c)
Sarah graduated with a Kinesiology degree from the Memorial University of Newfoundland and then went on to complete her Advanced Certificate in Athletic Therapy at Mount Royal College in Calgary in 2003.  She also holds the Certified Strength and Conditioning Professional designation with the National Strength and Conditioning Association and is an NCCP Level II Certified, Level III Theory Coach in figure skating.  Sarah has been an Athletic Therapist with the Sports Medicine Centre since it opened in 2011.
Sarah brings a variety of experience and course work to her clinical treatment and treats using a strong manual (hands on) therapy and exercise rehabilitation approach, focusing on the goals of each of her patients.  She uses Myofascial Release, Cranio-Sacral Therapy, Mulligan, Muscle Energy, Soft Tissue Release, and Active Isolated Stretching Techniques. She also draws on her background in coaching and strength and conditioning for athletes and active individuals to ensure her patients receive an exercise program that will help them meet their goals and get back to sport and life faster.
Sarah has devoted much of her life to figure skating. Her latest skating endeavour has been synchronized skating on a National gold medal winning team. As an Athletic Therapist, Sarah has worked with many collegiate sports including volleyball, soccer, wrestling, gymnastics and rugby. She has also had experience at National Championship level events for figure skating and gymnastics and worked as a therapist for the Calgary Colts in the Canadian Junior Football League as well as the Canadian medical team for the Professional Bull Riding Association.