Liam Birkwood
REGISTERED MASSAGE THERAPIST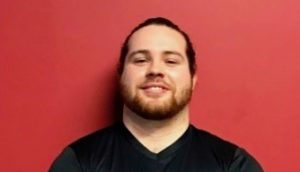 Liam graduated from the Algonquin College massage therapy program in 2016.
Liam has competed as a high level athlete for most of his life and always enjoys a challenge. Liam incorporates varies massage techniques to help rehabilitate clients to their optimal functionality. He accomplishes these outcomes by the use of Deep Tissue, Trigger Point work, Graston Technique, and fascia release. In order to allow for the effects of the treatment to last, Liam educates his clients on the importance of hydration, stretching and strengthening areas of imbalances. He has experience working with sports injuries, stress release, trigger points, tendonitis, sprain/strains, head, neck and shoulder issues, limited range of motion and relaxation.
Liam is a Graston Technique Provider. Graston Technique is an instrument assisted soft tissue mobilization technique. This technique allows for release of fascia restrictions, increased water uptake by muscles by breaking up cross-links formed in fibres, stretching connective tissue and muscle fibres, facilitates reflex changes in chronic muscle holding patterns, promotes fascia mobility, increases blood flow, and allows for a faster return to normal and healthy function.
Conditions treatable by Graston Technique are the following; Tendinopathies, Fascia Syndromes, Ligament Pain Syndromes (Sprains), Scar Tissue Adhesions, Edema Reduction, Entrapment Syndromes, and Myofascial Pain Syndromes (Trigger points).
Additional services Liam offers:
1-on-1 Coaching
Individualized training 1on1 to ensure exercises and movements are performed correctly and efficiently to reduce risk of injury.
Program Design and Online Coaching
Based on findings during the assessment and/or treatment process, a workout program will be designed specifically targeting your individual goals. This will be a multi-week program designed to target any limitations to optimize your functional performance.
Graston Technique
Graston Technique is an instrument-assisted soft tissue mobilization (IASTM) technique that allows for assessment and treatment of fascial restrictions as well as many muscular and tendon dysfunctions.
Cupping Therapy
Cupping is a technique used to increase blood flow and decrease fascial restrictions. By creating a vacuum inside the cup, tissue and stagnant blood is drawn towards the surface of the skin allowing fresh oxygenated, nutrient-rich blood to enter the tissues helping to promote tissue repair and improve circulation.
Advanced Session: Comprehensive Assessment + Manual Therapy + Development of a 4 week training program.
– $140.00
Additional information can be found on his website geared-performance.ca
Learn more about massage therapy.